Corum Group is an expert in mechanical engineering and mine construction in Ukraine and abroad
years of successful solutions
metres of vertical and horizontal driving
tons of coal produced by means of the Corum equipment
It is engaged in the design, development and implementation of innovative solutions in the mining industry. The main activities - projects in the mining industry, underground mining, comprehensive maintenance service, mine construction and mine sinking, turnkey mining.
Corum Group unites machine-building assets of DTEK Energo, and these are "Corum Svet Shakhtera", "Corum Druzhkivka Machine Building Plant", Corum Minespecialbuild and Corum Repair. The company's key customers include 14 largest mining holdings with assets of 150 mines and quarries. The Corum equipment is used at the mining enterprises in 15 countries of the world.
"Corum Svet Shakhtera" produces mining equipment, spare parts, performs repairs and provides service. The enterprise manufactures about 200 thousand units of products, including: shearers, armored face conveyors and belt elevators, sinking equipment, transformer substations.
More
Less
"Corum Druzhkivka Machine Building Plant" produces mining equipment, spare parts, and performs repairs. Focusing on the customers' needs, the plant is expanding its product line. Along with the production of supports, mine cars and electric locomotives, the production of suspended mine equipment, main fans, belt conveyors, roadheader KPD has been mastered.
Corum Minespecialbuild implements a wide range of services for the construction, equipping and repair of vertical shafts and underground mines and pits workings. The company is one of the most competent and professional in the mining business in Ukraine and abroad.
The Corum Repair service department specializes in equipment repairs at the client's site, provides service and technical support, thereby increasing the efficiency of operation and extending its service life.
For over 130 years, Corum Group has been transforming its business and manufacturing innovative and safe products, equipped with both the up-to-date technologies and already proven engineering solutions.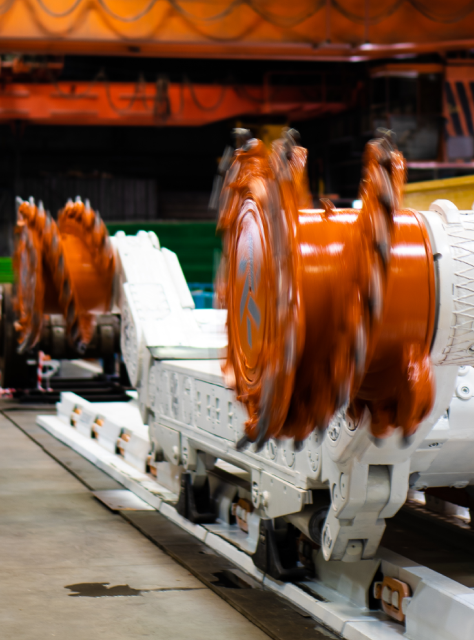 Corum Group 2030 strategy
Corum Group is a kind of Ukrainian business with European service, trusted by national and international partners.
2030
The Corum Group 2030 Development Strategy was approved by the DTEK Supervisory Board in early 2021.
The Corum Group took on the responsibility of transforming and adapting the business to better meet the needs of clients and society and to becoming an environmentally friendly, technologically efficient and effective partner for them.
The strategic objective is to develop the engineering and industrial construction through modernization, entering new geographic markets and increasing the share of new products in the sales structure.
The Company's key strategic directions are:
Geographic growth for engineering product sales.
Mine construction business development.
Point-specific modernization of production with a view to maximizing its efficiency and creating the technological process stages.
Commencement of the production of new products and services.
The entire process of implementation of the Strategy and work in each of the directions will be organized in accordance with the Company's values and the principles of sustainable development of the ESG (Environmental, Social, Governance) - with care for the environment, employees and partners of Corum Group.