Corum's cast production allows us to produce castings from cast iron, carbon and low-carbon steel for our customers according to the individual needs of the customer. We increase throughput capability of casthouse production up to 5,000 tonnes per year. This would be beneficial both for us as manufacturers and our clients - as the consumers.
Casthouse production
Today cast products manufactured by Corum Group are in demand on European markets. In 2020 we've supplied around 150 tonnes of cast products to Poland.

Products
Corum's line of cast products is ready to meet the needs of enterprises from various industries
Tubings: both for mine construction and metro construction.
Blocks for railway rolling stock.
Cast gearboxes for mechanical engineering.
Cast sidewalls for armored face conveyor (mining equipment).
Lining shell for the mining and metallurgical complex and energy industries.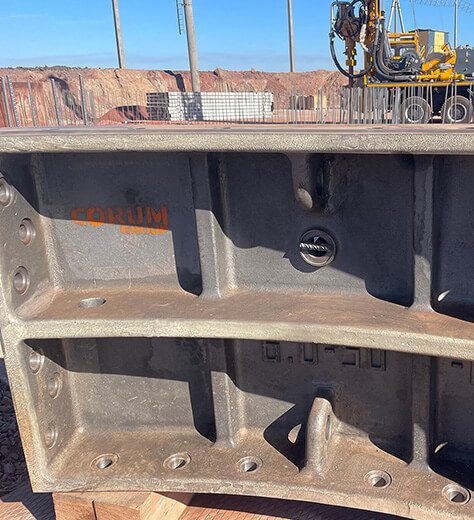 Production capacity
For the production of cast products, Corum has equipped a steel and iron casting workshop with equipment from world leaders:
molding line - cold hardening mixtures (CHM) technology (furan, chromite), manufactured by Omega Sinto Foundry Machinery Ltd (United Kingdom);
induction two-crucible melting complex, manufactured by INDEMAK (Turkey);
shot blasting chamber, manufactured by Gostol TST (Slovenia);
core machine - Cold-Box-Amin process, manufactured by Omega Sinto Foundry Machinery Ltd (United Kingdom);
electrothermic furnace, with a maximum operating temperature of 1250 C°, manufactured by "BORTEK" (Ukraine).