DTEK Energo machine builders have produced new roadheader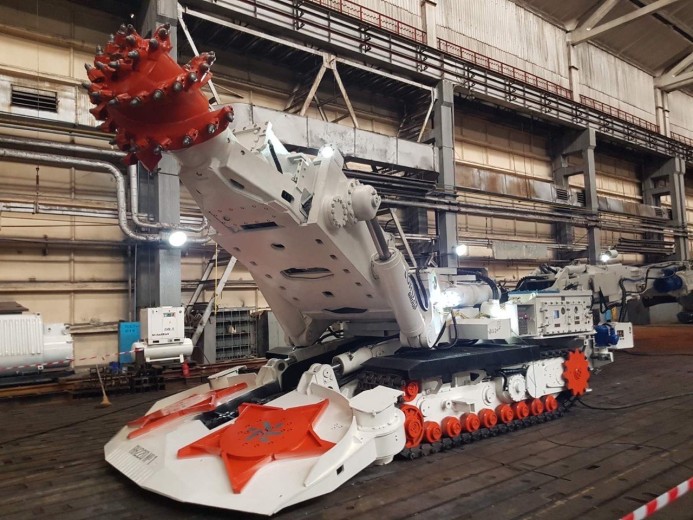 Corum Group (DTEK Energo) machine builders produced a modern technical level roadheader - RH220. New equipment is more powerful and reliable than its predecessors, and is equipped with remote control for the safe miners work. Plant's specialists for the first time manufactured roadheader at the company's new production site in Dnipropetrovsk region.
Roadheader RH220 is a powerful mining equipment that will provide new opportunities for miners. RH220, the weight of which is 80 tons, is designed for the mechanization of breaking, loading and transportation of the destroyed rock mass. Due to its greater installed power, it cuts stronger rocks. During the roadheader assembly machine builders used components from the best European manufacturers, which increases units reliability and safety. You can control the equipment remotely, and monitor its operation online from the mine surface. Miner's operation place is equipped with a control panel, which guarantees workplace safety.
Machine-building enterprises of DTEK Energo are among the first to successfully transfer production facilities during the war from areas where military actions continue to other regions of Ukraine. This will ensure uninterrupted supplies of necessary equipment for Ukrainian miners.
"As well as the Ukrainian military need modern weapons to defeat the enemy, our miners need modern equipment to reliably hold the rear. Despite the war and relocation, the up-to-date models of equipment are being born in the hands of our machine builders. RH220 will help Ukrainian miners to produce coal faster and in a safe way, which is the guarantee of the reliable operation of TPP and, ultimately, light and heat in Ukrainians homes," said Ildar Saleev, CEO of DTEK Energo.
After the finish of successful production tests, machine builders will start serial production of this roadheader.