Corum Group entered first contract for supply of equipment to India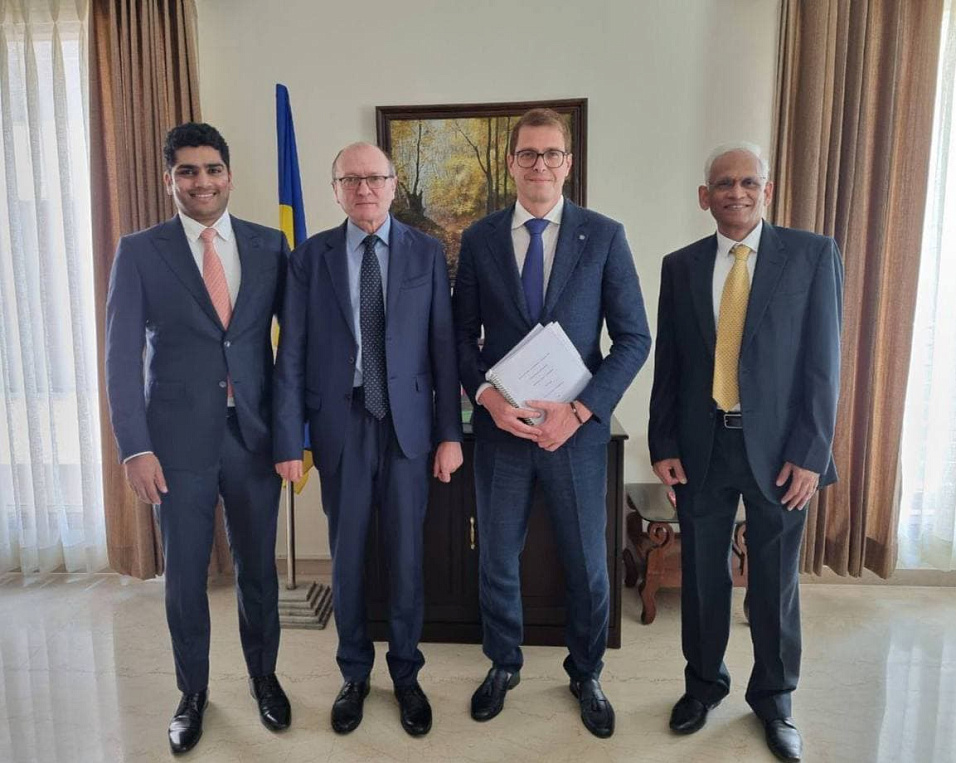 Corum Group (DTEK Energy) enters the market of India. The Company will perform a complex supply of a mechanized longwall complex for Bharat Coking Coal Ltd, which is part of Coal India Ltd, the largest coal mining company in the world.
"Cooperation with Coal India Ltd, whose annual production exceeds 600 mln t, is one of the most important contracts as part of the implementation of our 2030 Strategy. We perform this contract under a quadripartite agreement with the private company Indu Projects Ltd and the state-owned enterprises Singareni Collieries Company Ltd and Bharat Coking Coal Ltd, which shows the importance of the project for the entire industry branch. Our mechanized complex will facilitate the efficient coal mining in difficult mining and geological conditions. Now, the effectiveness of our equipment and our expertise will be evaluated in another country," commented Mikhail Potapov, CEO of Corum Group.
The contract was signed at the Embassy of Ukraine in the Republic of India, New Delhi. The mechanized longwall complex to be supplied to India includes both Corum Group's own solutions and the integrated solutions from other companies. It includes 149 DTM 20/43 roof support sections manufactured by Corum DrMZ, conveyor equipment (longwall, gate-end and belt) - manufactured by Corum Svitlo Shakhtaria, Eickhoff shearer, KAMAT pumping stations and electrical equipment.
"Bharat Coking Coal Ltd is planning to mine coal at the Moonidih mine for at least 9 years. Therefore, the proposals of companies that would have a guaranteed market for products in the next decade were considered first. Corum Group, as one of DTEK Energy's businesses with its own mines, had an obvious advantage," says Andrii Mironov, Indian Market Project Development Manager.
The operation of the mechanized complex in the mine is expected to commence at the beginning of 2023. Owing to the new equipment, the mine will be able to increase production to 2.5 mln t of coal per year. To train miners to use the equipment correctly, Corum Group will send a team of its specialists to India for six months.

Reference:
Indu Projects Ltd is a large private company, founded in 2001. Company focuses on residential real estate construction, infrastructure projects (airports, railway, irrigation systems, industrial construction, energy projects, coal mining).
Coal India Ltd is the world's largest coal mining company: annual production of more than 600 mln t, annual turnover of more than $12 bln, and more than 272 th employees. Coal India Limited owns 345 mines, of which 151 are underground, 172 are open and 22 are mixed. Currently, the company operates 13 coal preparation plants with a total capacity of 35.38 mln t per year (of which 11 are coking coal preparation plants and 2 are non-coking plants), and also manages other infrastructure enterprises.
Bharat Coking Coal Ltd is a public sector enterprise that is engaged in coal mining and related activities. It produces most of the coking coal mined in the country, the annual production is more than 25 mln t per year. Currently, the company operates 36 coal mines, including 11 underground, 16 quarry and 9 mixed mines, also has 8 coal preparation plants, 4 of which are under construction. The total number of personnel exceeds 41 th people.
Singareni Collieries Company Ltd is a state-owned coal mining company jointly owned by the Government of Telangana and the Government of India. The Singareni's coal reserves stretch for 350 km and the in-place reserves amount to a whopping 8,791 mln t. SCCL currently operates 20 quarries and 25 underground mines, with more than 44,000 personnel, the annual production is more than 50 mln t per year.
DTEK Energy maintains a close-loop cycle of electricity production from coal. Installed electricity generation capacity amounts to 13.5 GW. A full production cycle has been created in the field of coal mining, including coal production and preparation and service maintenance of mining equipment.
Corum Group is the largest manufacturer of mining equipment in Ukraine, and is part of the energy company DTEK Energy. It unites machine-building enterprises "Corum Svitlo Shakhtaria", "Corum Druzhkivka Machine Building Plant", "Corum Minespecialbuild" and Corum Repair. The Company's key clients are 14 largest mining holdings, whose assets comprise 150 mines and open pits. The Corum equipment is used at the mining enterprises in 15 countries of the world.