The mine-building division of our company "Corum Minespecialbuild" is an expert in equipping and constructing vertical shafts, carrying out horizontal and inclined workings, constructing chambers of any cross-section, constructing buildings of a surface complex, installing infrastructure equipment. This team has many years of experience in the construction of underground monumental and preparatory mine workings of mines and pits.
Mine construction
The specialists of "Corum Minespecialbuild" have experience in the construction of complex projects in any climatic conditions from Vietnam to the Arctic. Our clients are giants of the mining industry: DTEK, Zaporizhzhya Iron Ore Plant (ZZRK) PJSC, Donetsksteel, Seversteel, ArcelorMittal, Vinacomin, Siniat and others.
Now "Corum Minespecialbuild" is implementing from scratch a project for the complex construction of the Southern ventilation shaft № 2 for the Zaporizhzhya Iron Ore Plant using a complex technology is "artificial freezing of soils". Such a large-scale project in the mining industry is having been built in Ukraine for the first time since 1991.
The "Corum Minespecialbuild" uses innovative technologies in its work on objects. It is always an individual approach to the client and a comprehensive solution to his tasks with maximum effect.
Vertical shaft
"Corum Minespecialbuild" performs such types of work related to vertical shafts:
Designing.
Equipment for sinking.
Installation (repair) copiers.
Sinking and shafts reinforcement.
Special methods of sinking (artificial freezing, drop shaft).
Installation of pipe arrangement and cables.
Deepening, repair of support and reinforcement of existing shafts.
Degreasing of shafts.
General construction works.
Installation (replacement) of carrying and lifting and air handling equipment.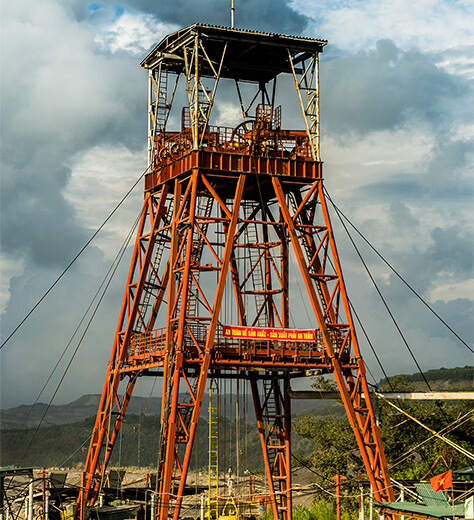 Horizontal and inclined mine workings
"Corum Minespecialbuild" performs such types of mining operations:
Designing.
Construction and repair of horizontal, inclined mine workings and chambers of any cross-section and complexity.
Sinking underground communications for various purposes.
Installation of infrastructure mining equipment.